Careful, paradise views ahead!
You'll feel like you're already here with the New Smyrna Beach 360 Experience! Explore different outdoor views, sunsets, sunrises, attractions, and unique arts & culture facilities. Explore the full experience, or view each separate location for more in-depth experiences.
Watch the Dolphins!
In this video, you are not just a viewer, you actually join us on the Marine Discovery Center tour. Move the video left and right to experience all nature views. Don't be surprised if you see a dolphin or two...
Watch Full Screen
Explore 360 Locations: Experience Before You Arrive
Iconic Flagler Avenue Sign & The Beach
Located next to one of the most popular beach access ramps in Volusia County, Flagler Avenue Beachfront Park becomes a hub of activity from sunrise and into the night. Early risers enjoy coffee by the beach. Later in the day, picnickers dine under the pavilion.
Step Onto The Beach
Smyrna Dunes Park At Sunset
Perched on 73 acres of pristine land at the northern tip of the New Smyrna Beach peninsula, the area is surrounded by water on three sides. You can arrive here by foot, car or even by boat and it's one of a few county parks where man's best friend can enjoy the amenities.
Walk the Boardwalk
New Smyrna Beach Inlet/Smyrna Dunes
Smyrna Dunes Park provides a unique opportunity for naturalists, ecologists, students and the general public to see a wide variety of animals, birds, reptiles, marine life and vegetation in their natural habitat. The surrounding waters provide excellent fishing, boating and swimming opportunities.
Feel The Ocean Breeze
never miss what's happening
Subscribe to Monthly News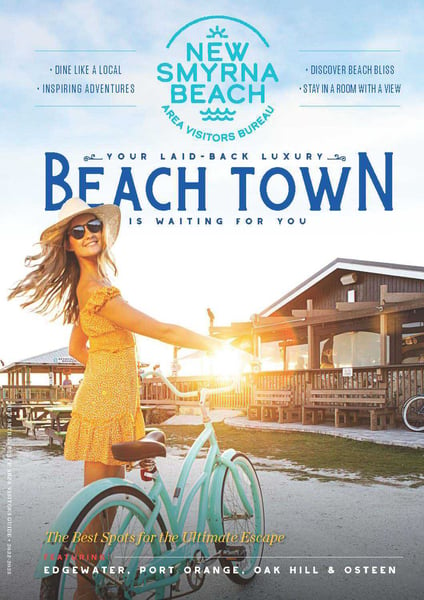 Request Our FREE Destination Guide
In New Smyrna Beach, there is something for everyone. From a vibrant local food scene to the performing and visual art, we are proud to be the perfect choice for creating new family traditions.