Edgewater: True To Its Name
True to its name, this city just south of New Smyrna Beach lies along the edge of the Indian River, putting great fishing and spectacular views right at your doorstep. It's no surprise that legendary boat company Boston Whaler recently expanded its headquarters here, or that this has become the epicenter of the area's blueways.
Launch from Menard-May Park to explore these trails; paddle around mangrove islands to see pelicans, herons, and other birds. Go angling for redfish with an expert Edgewater River Guide. Then dine on fresh fish at a local hot spot like JC's Riptides.
The Indian River Lagoon
The Indian River Lagoon is one of the largest and most diverse estuaries in the Northern Hemisphere. At 156 miles long, it is home to over 4,300 different species of plants and animals. The lagoon is made up of the Mosquito Lagoon, Banana River, and the Indian River, extending from the Ponce de Leon Inlet in New Smyrna Beach to the Jupiter Inlet in Jupiter, FL.
Sea turtle hatchlings make their way into the safe haven of the lagoon after hatching on the beach shore, because larger predators can't swim in the lagoon's shallow waters. It's also on the migratory path for manatees - large, but gentle, sea mammals as well as thousands of dolphins that call the lagoon home. These waterways can be explored by kayak or canoe with many walking paths and trails along the shores for those who like to stay on dry land. As you can see the Indian River Lagoon is an important habitat, and it gifts visitors an up-close look at Florida's unique wildlife, flora and fauna.
More Information
Nearby: Kennedy Space Center
Many kids across America dream of becoming an astronaut and taking a rocket into outer space. While that dream is achieved by just a few, many can experience the thrill of space exploration with a visit to the Kennedy Space Center Visitor Complex. Located south of Edgewater at Cape Canaveral, it makes for the perfect day trip. The Visitor Center boasts separate "missions" that will take you on a chronological tour through the space program.

Explore the "Heroes & Legends" zone for a historical look at the space program or take the "Behind the Gates" tour, where you'll see launch pads and NASA's famous Vehicle Assembly Building. "Race to the Moon," "Shuttle: A Ship Like No Other," and "NASA Now + Next" are exhibits that tell the story of each era of space exploration. If you happen to be in the area during a launch, you'll have a front-row seat right from the rivers of Edgewater—so be sure to bring along your phone or camera to catch all the action. For a day trip that's out-of-this-world with fun, visit the Kennedy Space Center. We bet you'll have a blast!
More Information
Water Rentals & Sports
If you didn't bring your own kayak, paddleboard, or boat, don't worry! The New Smyrna Beach Area has plenty of rental and private charter companies ready to serve your needs.
Water Rentals
never miss what's happening
Subscribe to Monthly News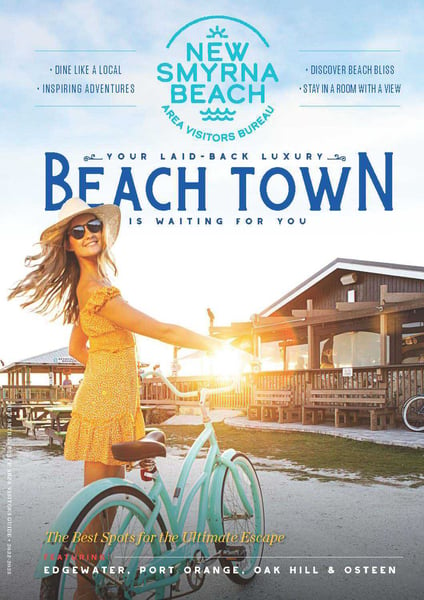 Request Our FREE Destination Guide
In New Smyrna Beach, there is something for everyone. From a vibrant local food scene to the performing and visual art, we are proud to be the perfect choice for creating new family traditions.