Greenways, Parks & Trails
Uncover our trails, connect with Florida's flora and go beyond the beach.
While the vast Canaveral National Seashore is the area's most impressive park, the New Smyrna Beach area is also home to many beloved smaller parks. Whether it's dry trails or wet trails, the New Smyrna Beach area has access to both!
Here we have a few of our greenways listed for your next getaway. While getting toes in the sand and enjoying the shores is a visitor-favorite activity, these parks will connect you to Florida's exuberant nature and create memorable moments beyond the beach.
Doris Leeper Spruce Creek Preserve
Named after esteemed painter and sculptor turned fierce environmentalist Doris Leeper, this 1,637-acre preserve abuts an estuary that's home to hundreds of different plants and animals. Local students, teachers, and community members worked alongside state and county agency mentors to develop minimal-impact nature trails for hiking, biking, and horseback riding. Additional amenities include canoe and kayak launches, a boardwalk with an observation tower, shaded pavilions, and a playground. History buffs will take interest in the shell middens left behind by the Timucua tribe, which flourished in the 1500s.
New Smyrna Dunes
This 184-acre park along the southern shoreline of Ponce de Leon Inlet features more than two miles of the wide, elevated boardwalk—terrain that's ideal for wheelchairs and strollers. The looped trail has multiple scenic overlooks for views of powdery mountains of sand and feather-like sea oats, the Atlantic Ocean and Indian River, the historic Ponce de Leon Lighthouse, and a geodesic dome NASA uses to monitor shuttle launches. Other popular attractions in the park include a fishing pier and a dog-friendly beach.
Eldora Hammock Trail
This half-mile trail curls through a shady hammock that borders the Canaveral National Seashore, formerly known as Eldora, a historic fishing village accessible only by boat. A dense canopy of red bay trees blocks the sun, allowing flowering shrubs such as wild coffee and sparkleberry to thrive.
Dale Avenue SUN Trail
Completed in 2017, this 12-foot-wide boardwalk path is the first segment constructed with funds from Florida's SUN (Shared-Use Non-motorized) Trail Program. It closes a gap on the St. Johns River-to-Sea Loop, a 260-mile-long trail that spans Brevard, Volusia, Flagler, St. Johns, and Putnam Counties and extends the East Central Regional Rail Trail from the intersection of Park Avenue and Dale Avenue north to 10th Street, near Daytona State College's New Smyrna Beach-Edgewater Campus.
East Central Regional Rail Trail
The state's longest railroad to trail conversion, the East Central Regional Rail Trail currently spans 52 miles across Brevard and Volusia Counties. One leg extends up to Edgewater, another down to Titusville–the two converge west of I-95 and transverse undeveloped countryside, swamps, and forests, ending at Green Springs Park, where jade-colored waters once lured ailing tourists and now tempt Instagrammers with mesmerizing photos ops. This extensive system, which will eventually stretch to St. Petersburg, provides something for everyone, from recreational riders who want to soak in the natural splendor of Old Florida to serious cyclists keen on racking up mileage and building up speed with minimal street crossings.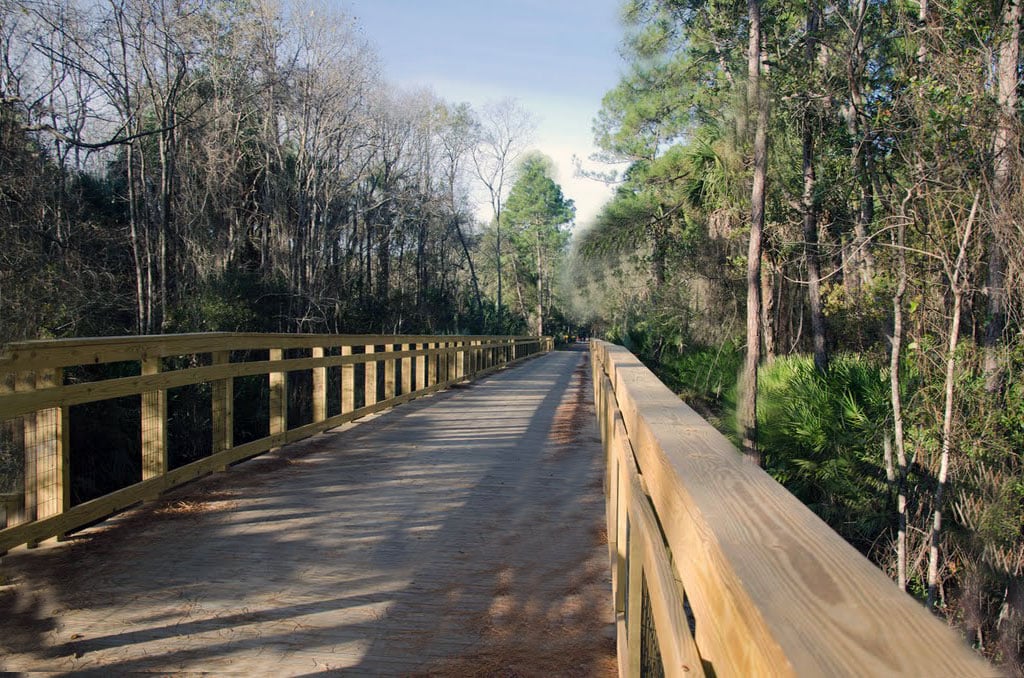 Explore All Parks & Trails
never miss what's happening
Subscribe to Monthly News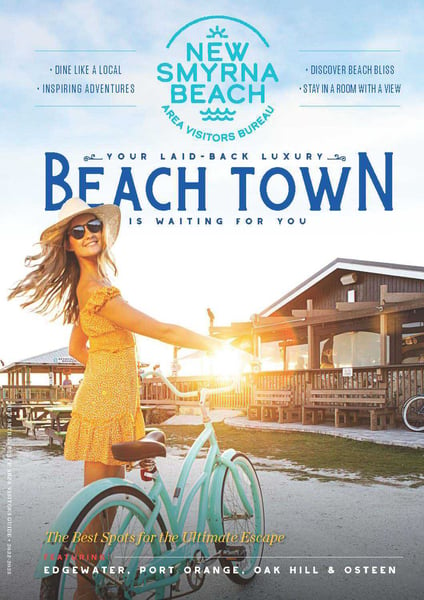 Request Our FREE Destination Guide
In New Smyrna Beach, there is something for everyone. From a vibrant local food scene to the performing and visual art, we are proud to be the perfect choice for creating new family traditions.