Add Some Fun to Your New Smyrna Beach Area Experience!
See the gentle Florida manatee, or dolphins playing in the river, enjoy the thrills of racing, or watch locals perform plays at the theater. Take a cruise and enjoy natural Florida along the Indian River Lagoon, a maritime highway, as river cruises are a relaxing way to experience nature. These are the New Smyrna Beach Area's key attractions.
Marine Discovery Center

The long-range vision of the Marine Discovery Center is to see a healthy Indian River Lagoon (IRL) Estuary and the ecosystem it supports preserved and enjoyed for its natural beauty, unmatched diversity of species, and rich fishery for generations to come.
Read More
The NSB Speedway

Along with providing the best weekly racing and special events in the area, the speedway has been highly utilized in recent years as a prime testing facility for some of the teams from the NASCAR Nationwide, Camping World Truck, and Spring Cup Series.
Read More
Indoor Attractions

The New Smyrna Beach Area offers plenty to explore and do when you need a break from the Florida sun.
Read More
Ponce Inlet & Lighthouse Museum

Walk inside the white picket fence and step back in time. Maintained and operated by the Ponce de Leon Inlet Lighthouse Preservation Association, this beautiful facility represents one of the best preserved and most authentic historic light stations in the nation today.
Declared a National Historic Landmark in 1998, Ponce Inlet Lighthouse is the tallest lighthouse in Florida and the second tallest masonry lighthouse in the country. Visitors can climb 203 steps to the top of the 175 - foot tower and enjoy magnificent views of the world's most famous beach, Ponce Inlet, and surrounding inland waterways from the lighthouse gallery deck. The Ponce de Leon Inlet lighthouse and Museum is open to the public year round, Monday through Sunday, 10 a.m. to 6 p.m.
Read More
More Attractions to Explore
never miss what's happening
Subscribe to Monthly News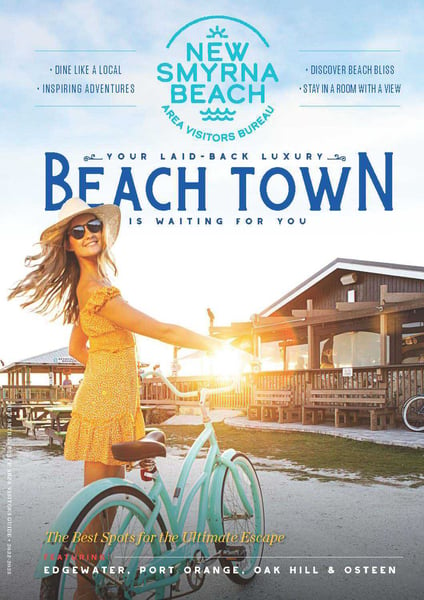 Request Our FREE Destination Guide
In New Smyrna Beach, there is something for everyone. From a vibrant local food scene to the performing and visual art, we are proud to be the perfect choice for creating new family traditions.