Kennedy Space Center, The Daytona Speedway, Blue Spring State Park & More.
New Smyrna Beach is centrally located on the Central East coast of Florida making it a convenient day trip to some of Florida's best attractions. Explore what the sunshine state holds from the fresh springs in Volusia to the Daytona Beach International Speedway and everything in between.
Blue Springs State Park
Located an hour west of New Smyrna Beach is Blue Springs State Park which covers over 2,600 acres, including the largest spring on the St. John's river. It's a designated manatee refuge and the winter home to a growing population of West Indian Manatees. During the manatee season, which approximately runs from mid-November through March, several hundred manatees can be viewed atop the spring's overlooks on cold days. The spring's crystal clear, 73-degree water can be enjoyed by swimmers, snorkelers, and certified scuba divers, with a partner during the late spring and summer months.
Kennedy Space Center
Located just an hour south of NSB is the Kennedy Space Center. KSC in Florida is pivotal in NASA's mission. It is the base for Space Shuttle launch and landing operations. Every manned mission to space has departed from NASA Kennedy Space Center. Over the years, it has evolved to become the starting point for hundreds of scientific and applications spacecraft. The visitor center is open to the public and features exhibits, displays, memorabilia, two IMAX theaters, and several bus tours. The Kennedy Space Center Visitor Complex also has daily presentations from a veteran NASA astronaut. The experience is truly out of this world.
Daytona International Speedway
Just 30 minutes north of New Smyrna Beach is the Daytona International Speedway. This massive multi-sports facility leaves visitors in awe with every visit. Kids love it at the track, too! It charges up their imagination and gives them plenty to see and do. The Speedway offers a year-round calendar of offerings to choose from scenic tours, events, and the world-famous Daytona Beach International 500!
Explore Nearby Attractions
Daytona Beach Attractions
Located 30 minutes north of New Smyrna Beach, the Daytona Beach area offers 23 miles of beautiful Atlantic beaches - some serene, some action-packed - along with restaurants, nightspots, museums, parks, trails, shopping, and all sorts of attractions.
Read More
West Volusia County
Old Florida. Real Florida. Vibrant Florida. Just 30 minutes away, snap a picture at the #DelandWings or connect with nature at one of the many parks, such as Blue Spring State Park, where crystal clear waters are a sight to see.
Read More
Kennedy Space Center & Rocket Launches
Plan a day at the Kennedy Space Center to enjoy the museum and plenty of activities, just 30 minutes away. Or witness a live rocket launch! The beaches on our barrier island offer prime viewing for launches for this once-in-a-lifetime experience.
Read More
never miss what's happening
Subscribe to Monthly News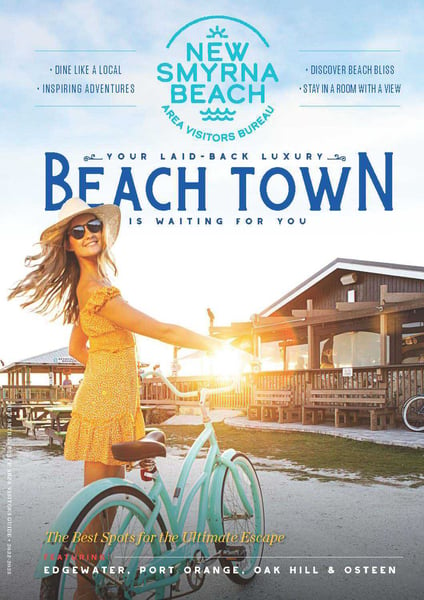 Request Our FREE Destination Guide
In New Smyrna Beach, there is something for everyone. From a vibrant local food scene to the performing and visual art, we are proud to be the perfect choice for creating new family traditions.