Preserve, Protect, and Restore for Generations to Come
The long-range vision of the Marine Discovery Center is to see a healthy Indian River Lagoon (IRL) Estuary, and the ecosystem it supports, preserved and enjoyed for its natural beauty, unmatched diversity of species, and rich fishery for generations to come. Initiatives and activities designed to achieve this vision include providing education, research, restoration, and heightened public awareness of this wondrous, fragile natural resource.
In order to preserve the IRL for the enjoyment of future generations, one goal of the Marine Discovery Center is to showcase the biodiversity of this treasured natural resource and to examine, research, and encourage human interaction "ON THE WATER" with the estuary.

"Travel the IRL in the comfort of our 40-seat Discovery all-weather pontoon boat. Your tour guide on the 2-hour journey will be one of our knowledgeable narrators – certified Florida Master Naturalists – who enjoy sharing their extensive knowledge of the abundant marine life that lives in and on the Indian River Lagoon.
You will experience first-hand the solitude and natural beauty of this Florida treasure while learning of our efforts to ensure that we preserve its uniqueness for generations to come. Or paddle the Indian River Lagoon with a Florida Master Naturalist and learn about the importance of caring for this "cradle of the ocean" and the birthplace of 95% of Florida's fish and crustaceans. Kayak instruction and nature interpretation are included with each tour."
MDC Camps = Summer Fun
If you are visiting for the summer, be sure to check out all of the neat summer camp programs the Marine Discovery Center offers! Summer camps at the Marine Discovery Center are designed for children to experience the water through their hands-on, feet-wet programs.
All of their summer camp programs include island exploration, science experiments, marine-related arts and crafts, fishing, shoreline studies in our salt marsh, and a photo show of your child's week at camp! Each camp will offer a graduated experience that makes the camp unique and gives children something to look forward to each year.
Visitor-Favorite Events
Marine Discovery Center offers a year-round calendar of events from eco-tours, educational programs, and fascinating special events and programs. The Dolphin Discovery Boat Ecotour is one of MDC's treasured tours. Travel the Indian River Lagoon on a 40 - passenger Discovery pontoon boat and explore the variety of species that call the lagoon home. Your tour guide on the journey will be one of their friendly certified Florida naturalists.
never miss what's happening
Subscribe to Monthly News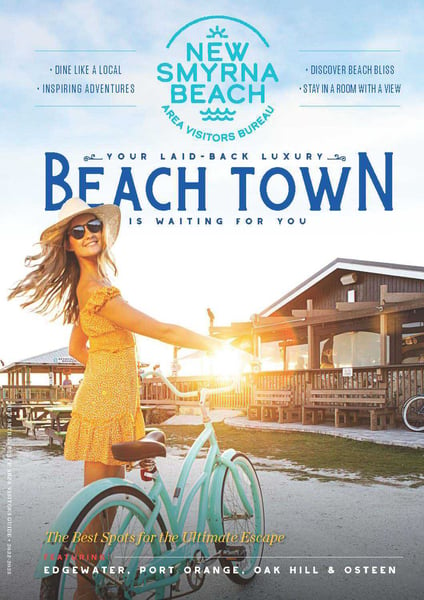 Request Our FREE Destination Guide
In New Smyrna Beach, there is something for everyone. From a vibrant local food scene to the performing and visual art, we are proud to be the perfect choice for creating new family traditions.