Sea You on the Next Wave
The star attraction in New Smyrna Beach is its 17-mile stretch of white sandy beaches. Sunbathing, swimming, bicycling, strolling or doing nothing at all is the choice of most visitors.
But the beach is also well-known to surfers, offering some of the finest wave action on the Eastern Seaboard. Surfing is a favorite pastime, and the locals have the scoop on where to catch the best wave. New Smyrna is the perfect place for experts and amateurs alike. With rock ledges 4 - 5 miles offshore, the wave breaks are plentiful but swimmers are protected from dangerous undertows.
Beginners like our beaches because they can learn the sport in safe waters. Each summer, New Smyrna Beach is flooded with surfers as the American Professional Surfing Association holds one of its premier contests. If you don't know how to surf, don't sweat it! Surf lessons are available for all ages. Jimmy Lane Surfing Academy offers classes on a daily and weekly basis and is open to all ages and all levels of students. Surfin' NSB also offers surfing lessons, and their instructors will even come to you!
Don't forget about paddle boarding and kayaking. Kayak rentals and eco-guided tours are available for those who wish to paddle through the backwaters of the Indian River, which allow an up close and personal experience of the area's wildlife and natural islands whether you choose to go solo or make it a family outing.
Surf
Our area has a number of surf, kayak and paddleboard shops available where you can choose to rent or purchase your attire and equipment. Be sure to check out Nichols Surf Shop, the oldest surf shop in New Smyrna Beach, and locally owned and operated. Nichols has rentals, sales and service for bikes, boards and kayaks.
For paddleboard and kayak rentals stop by JB's Lagoon Adventures. No need to lug your SUP around town; just stop by and on to the water you go!
never miss what's happening
Subscribe to Monthly News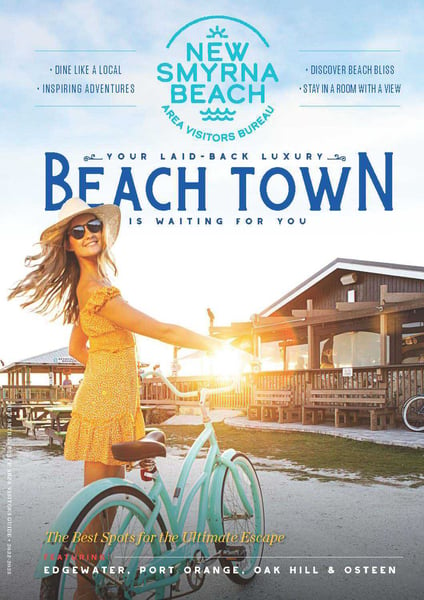 Request Our FREE Destination Guide
In New Smyrna Beach, there is something for everyone. From a vibrant local food scene to the performing and visual art, we are proud to be the perfect choice for creating new family traditions.