1. IMAGES Festival
Ranked number 16 in the NATION for Fine Art Festivals by Sunshine Artist Magazine, Images Arts Festival was a FREE family event that has something for everyone. The event, which took place January 26-28, 2024, attracted 53,000+ arts enthusiasts, and it had one of the best Patrons Programs in the Southeast. The festivities included fine art from over 237 artists, live music, demonstrations, food trucks, a spirit garden, a student art exhibit, and a creative education tent with hands-on art projects.
2. New Smyrna Beach Jazz Festival
One of Central Florida's premier music events, the Jazz Festival is a lively three - day affair that takes place May 19 - 21, 2023, and includes great jazz, good food, and lots of fun! The first event was in September of 2001 and has been attracting locals and visitors from far and wide ever since. Today, the New Smyrna Beach Jazz Festival has become a top - notch weekend musical event with help from many private and public donations, a few local volunteers for the festival weekend and the dedication of the events founder.
3. NSB Plein Air Paint Out
Plein Air Paint out is an annual event that brings approximately 25 artists from around the country to New Smyrna Beach. During the event, which will take place October 17 - 21, 2023, artists can be found from dawn to dusk at various outdoor locations throughout the city. Spectators are encouraged and invited to interact with artists as they work. At the end of each day, the artists hang their completed works in a gallery, which is open to the public for viewing. The Paint Out continues the legacy of fund - raising to enhance environmental education and art programs and to further the goals of both the Marine Discovery Center and the Artists' Workshop of conservation and stewardship of the Indian River Lagoon and art appreciation to youth, the community, and visitors.
4. Flagler Avenue Wine Walk
On the fourth Saturday of each month, New Smyrna Beach hosts the popular Flagler Avenue Wine Walk event, where visitors can stroll from venue to venue on the historic street and sample a variety of wines. Wine Walk tasting passports are $30 and include 20 tasting tickets along with a keepsake wine glass, map, and listing of each host locations wines for the month. During the event, locations offer both one and multi - ticket wines to sample. You can purchase your tickets in advance on Eventbrite or the day of the event starting at noon.
5. Classic Cars on Canal
Cruise over to Canal Street on the second Saturday of every month for food, shopping, and tons of fun. Open to all, you can expect to see some of the finest custom cars, trucks, and motorcycles you can find in Florida. Starting at 3 PM, the streets are blocked off to through traffic and the family friendly show kicks off. Head on out and spend your Saturday looking at all the beautiful cars and cruise the fun Canal Street has to offer.
6. The Flamingo Follies Holiday Art Show
Looking for that one-of-a-kind gift for the Holidays? Then come down to Flagler Avenue for the Annual Flamingo Follies Holiday Art Show. Taking place November 11th and 12th, 2023, the event runs from 9 AM to 5 PM and includes approximately 120 artisans and crafters from around the state ready to show and sell their wares. Admission is free and Flagler Avenue will be closed vehicle traffic during the event. While you're there, stop in the shops or grab a bite to eat from one of the many spots on Flagler Avenue. This annual event is a wonderful opportunity to buy local gifts for the holiday season.
7. Canal Street Nights
Come out and join the fun on the third Thursday of every month for Dining, Shopping, Strolling, and Falling in Love with Downtown. Canal Street Nights is a fun filled night of live music and a wide variety of vendors to browse. Grab dinner at one of the great restaurants on or off Canal Street and don't forget to pick up some food items to take home from the Marketplace. Most local merchants will be open and there will be things for kids to enjoy as well. Canal Street Nights is a family - friendly party on the street. Your friends will be there, so, come out and join them!
8. New Smyrna Beach Art Fiesta
The annual Art Fiesta takes place in February each year and featured over 240 artisans and crafters from around the country demonstrating and selling their works while also competing for $19,000 in cash prizes and purchase awards. Browse the street and park while listening to musical entertainment throughout this two - day event. Enjoy an eclectic mix of live music, delicious street food, and the timeless qualities of fine art on Old Fort Park and along Sam's Avenue, Julia Street, and Canal Street from 9 AM to 5 PM. This event is free to the public and sponsored by the City of New Smyrna Beach's Leisure Services Department.
9. Sip & Stroll at Canal Street
Mark your calendars for the monthly Canal Street Sip & Stroll. Taking place the first Saturday of each month from 1 PM to 6 PM, this 21 and up event provides the opportunity to sample craft beers and unique wines as you stroll through the canal street historic district. Tickets are $25 and include a Canal Street souvenir glass and 12 sampling tickets that can be redeemed at 12 locations in the district. A self - guided map is provided for this exciting excursion. Returning participants that bring their souvenir glass will enjoy $ 2 off their ticket.
10. New Smyrna Beach Shrimp and Seafood Festival
If you choose to attend the annual Shrimp and Seafood Festival in August, you can expect to enjoy all the best local restaurants serving up sample - sized portions of their award - winning seafood dishes all priced between $3 and $5. Additionally, you'll find local artists, musicians, and other "Seafood" related activities. During the Festival, restaurants will be competing for the coveted "BEST ON THE BEACH" awards in 4 categories: Shrimp, Shellfish, Fish, and Specialty Seafood. This is a great opportunity to try out the best local cuisine and perhaps find a new favorite dish or restaurant. Flagler Avenue will be closed to vehicle traffic during this event, so bring the family and enjoy all the Shrimp and Seafood that New Smyrna Beach has to offer.
never miss what's happening
Subscribe to Monthly News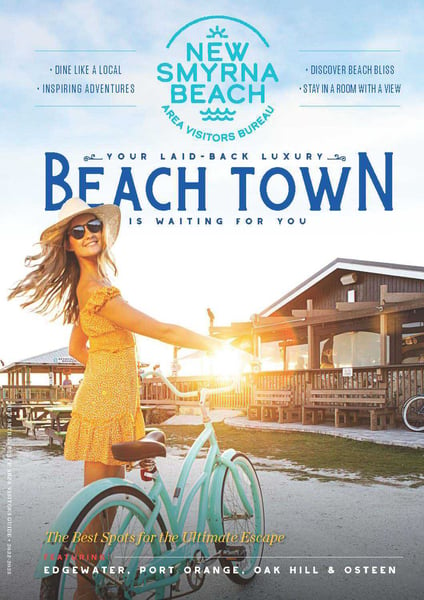 Request Our FREE Destination Guide
In New Smyrna Beach, there is something for everyone. From a vibrant local food scene to the performing and visual art, we are proud to be the perfect choice for creating new family traditions.