Blueways & Paddling Trails
Go Beyond the Beach. Paddle your way through New Smyrna Beach coastal waterways.
While the vast Canaveral National Seashore is the area's most impressive park, the New Smyrna Beach area is also home to many beloved smaller parks. Whether it's dry trails or wet trails, the New Smyrna Beach area has access to both!
A few of our recommendations are Bird Rookery Paddle, a 2.9-mile blueway trail launching behind the Marine Discovery Center, where you have the opportunity to see many regional birds. Or the Mosquito Lagoon, a series of spoil islands sheltering a maze of tidal creeks from the Atlantic Ocean, home to more than 4,000 animal and plant species.
Bird Rookery Paddle
Ideal for novices, this peaceful 2.9-mile trail, which launches behind the Marine Discovery Center, passes under the North Causeway and through the New Smyrna Beach City Marina, through the Florida Fish and Wildlife Commission's Salt Marsh Restoration Project, and along a seawall built by Scottish colonists in the mid-1700s. The highlight, however, is six species of birds that nest on a pair of mangrove islands, which were protected by the Presidential order in 1908 thanks to avian enthusiast Theodore Roosevelt. To keep the area thriving, pack binoculars or a camera with a strong zoom lens, as visitors should never step onto these sites. April through September is the best period to see nesting birds.
Mosquito Lagoon
This shallow 2.12-mile trail, laid out by a local Eagle Scout, is well suited for first-time paddlers. A series of spoil islands (formed decades ago when the Army Corps of Engineers dredged the Intracoastal Waterway) shelter a maze of tidal creeks from the Atlantic Ocean. Part of the larger Indian River Lagoon—widely considered North America's most biodiverse estuary—Mosquito Lagoon teems with more than 4,000 animal and plant species, including roseate spoonbills, dolphins, and sea turtles. Visiting in the summer? Bring bug repellant; the trail lives up to its namesake.
Brown's Bay
Take caution on this 2.6-mile trail, which includes a large sandbar (at low tide), a deep-water channel, and powerboat traffic. Launch from Menard-May Park, then go paddling across the Intracoastal Waterway to Firecracker Island. Keep right to safely enter Brown's Bay, home to many oyster beds, mangroves, fish, and birds.
never miss what's happening
Subscribe to Monthly News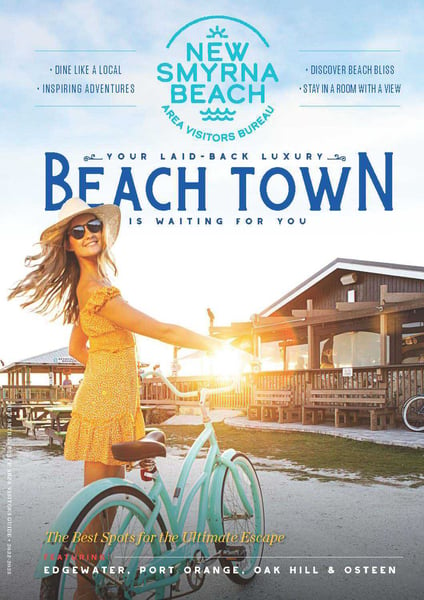 Request Our FREE Destination Guide
In New Smyrna Beach, there is something for everyone. From a vibrant local food scene to the performing and visual art, we are proud to be the perfect choice for creating new family traditions.