Viking Ecotours
Viking EcoTours

Manatees, bioluminescence, dolphins, and mangroves: all things you could see on a hands-free kayak tour through Canaveral National Seashore with Viking Ecotours. Guests pedal through the lagoon with their hands free to take pictures, drink water, or point out the wildlife. Expert guides create safe, comfortable, and unique experiences while guaranteeing an environmentally friendly excursion that will be fun for the whole family! Viking Ecotours offers the closest kayak tours to Orlando, Daytona, and Canaveral National Seashore with tours including bioluminescence, rocket launches, sunrise, sunset, and wildlife tours where you could see manatees, dolphins, sea turtles, eagles and more.
Marine Discovery Center
Explore New Smyrna Beach - Marine Discovery Center

Travel the IRL in the comfort of our 36-seat Discovery all-weather pontoon boat. Your tour guide on the 2-hour journey will be one of our knowledgeable narrators – certified Florida Master Naturalists – who enjoy sharing their extensive knowledge of the abundant marine life, which lives in and on the Indian River Lagoon. You will experience first-hand the solitude and natural beauty of this Florida treasure while learning of our efforts to ensure that we preserve its uniqueness for generations to come. Or paddle the Indian River Lagoon with a Florida Master Naturalist and learn about the importance of caring for this "cradle of the ocean".
Cracker Creek Canoe
Boat Tours – Cracker Creek

Cracker Creek offers a variety of boat tours and outings aboard our 40ft pontoon boat with a fixed canopy covering, comfortable bench seating, and a center console ideal for educational displays or buffet food and drink service. Available for both our regularly scheduled eco-tours or by reservation for group gatherings, private parties, or special events – truly a unique and memorable way to experience scenic Spruce Creek!
Turtle Mound Tours
Turtle Mound River Tours

Turtle Mound River Tours offer fun private charter, and daily scheduled tours aboard their comfortable vessel at New Smyrna Beach. They travel south along Canaveral Seashore and view wildlife in and near the water, including manatees and dolphins. The boat meanders through quiet islands and across to the mainland, cutting back through pristine waters full of fish and many wading bird species.
NSB River Tours
NSB River Tours - Boat Tours, Boat Charters, River Cruises

Climb aboard a luxurious 25-foot Crestliner Tritoon with Captain Larry and enjoy a River Tour, EcoTour, Sunset Cruise, Rocket Launch, Lazy Day Sandbar Trip, or Bioluminescence Tour! Captain Larry previously served in the United States Coast Guard and is a licensed USCG Master Captain with extensive knowledge of the New Smyrna Beach waterways. So, relax and get away from it all on a private boat tour around New Smyrna Beach.
never miss what's happening
Subscribe to Monthly News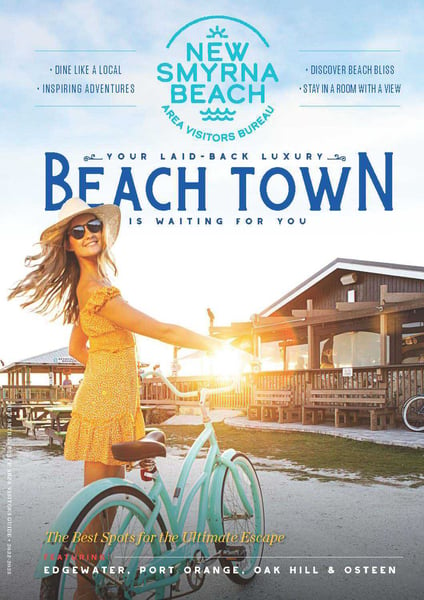 Request Our FREE Destination Guide
In New Smyrna Beach, there is something for everyone. From a vibrant local food scene to the performing and visual art, we are proud to be the perfect choice for creating new family traditions.