Public Parking Lots & Driving Beach Access
Beach Parking & Entrances
Free Beach Access Parking Lots
Head to Hiles Blvd Beach Park or Mary McLeod Bethune Beach Park for free beach access parking. Open daily; you'll find restrooms and outside showers. Parking is prohibited from 11 p.m. to 5 a.m.
Most street parking and public parking lots in the area are free of charge, however, many beachfront parking lots offer self-pay kiosks for daily parking, or you'll find a staffed admittance gate. Be sure to note signage for applicable time limits where free parking is available.
Do not park in spaces marked "handicapped," "reserved," or "residents only" unless you have the required pass. Many businesses will also designate parking for "customers only."

Parking Lots & Driving Beach Access
Easy Self-Pay Beachfront Parking Lots
Our map below shows easy-access beachfront parking lots. Open daily from dawn to dusk, you'll find restrooms, outside showers, and parking kiosks that accept cash or credit card. Parking is $20 per day.
Be sure to note your license plate number, pay at the kiosk, and you're all set for your day at the beach. Annual beachfront lot parking passes for non-Volusia County residents are available for $100. These passes expire each year on December 31 and can be prorated. Apply for an annual Beachfront Parking Lot Pass, click here.
Vehicles with a valid disabled parking permit may park at no charge and do not require a parking pass.
Additional Beach Access Parks with Parking
We have 2 beach access parks with bonus amenities! Dogs accompanied on leashes are welcome in designated areas at Smyrna Dunes Park where elevated nature trails, a fishing pier, and scenic overlooks offer fun explorations at this 184-acre park. Parking at Smyrna Dunes Park is free for handicapped and disabled veteran-registered vehicles. The area's national park, Canaveral National Seashore, offers many natural and historic sites and 5 beachfront parking lots with restroom facilities. People with disabilities may qualify for a free lifetime Access Pass at Canaveral National Seashore. Visit these links for specific more details.
Vehicle Beach Access Entrances
This half-mile trail curls through a shady hammock that borders the Canaveral National Seashore, formerly known as Eldora, a historic fishing village accessible only by boat. A dense canopy of red bay trees blocks the sun, allowing flowering shrubs such as wild coffee and sparkleberry to thrive.
Boat Trailer Parking and Boat Ramps
From Port Orange to Osteen, there are numerous places to put your boat in the water in the New Smyrna Beach Area. From primitive launches for flats boats and kayaks to boat ramps for deep-water vessels, be sure to view details at each location for fees, hours, amenities, and water depth.
Free Boat Ramps and Launches

Lemon Bluff Park, Osteen

Hiles Boat Ramp, New Smyrna Beach

River Breeze Park Boat Ramp, Oak Hill

Port Orange Causeway Park, Port Orange

Dunlawton Boat Ramp, Port Orange

Port Orange Causeway, Port Orange

George R Kennedy Memorial Park, Edgewater

Menard-May Park, Edgewater

Canaveral National Seashore, North Apollo Beach, New Smyrna Beach

Callalisa Park, New Smyrna Beach

Spruce Creek Ramp, New Smyrna Beach

Turnbull Creek Primative Boat Launch, Oak Hill
NSB Boat Ramp Parking Permits
With direct access to the deep-water channel of the Intracoastal Waterway, city of NSB boat ramps are open daily, 24 hours a day. Parking is strictly enforced, and parking violation fines are set at $100. Annual passes are $200 and expire on December 31 each year. Prorations are available. Daily passes can be purchased for $10 at the boat ramp self-pay kiosks using cash or credit card. Don't forget to note your license tag number before you pay at the kiosk. Volusia County residents and residents of select Florida counties are eligible for free annual passes. For more information and to apply for an annual pass, click here.
North Causeway Boat Ramp – Westside, New Smyrna Beach

North Causeway Boat Ramp – Eastside, New Smyrna Beach

Swoope Boat Ramp off US 1, New Smyrna Beach
Note: Passes purchased for Beachfront Parking Lots can be used at city of NSB Boat Ramps. However, city of NSB Boat Ramp parking passes cannot be used to park in a Beachfront Parking Lot.

Private Boat Ramps and Launches
Cameron's Marina/Marker 57, Edgewater

Bissitt Bay Fish Camp, Oak Hill

Lopez RV Park & Marina, Oak Hill

Indian Mound Fish Camp, Oak Hill
never miss what's happening
Subscribe to Monthly News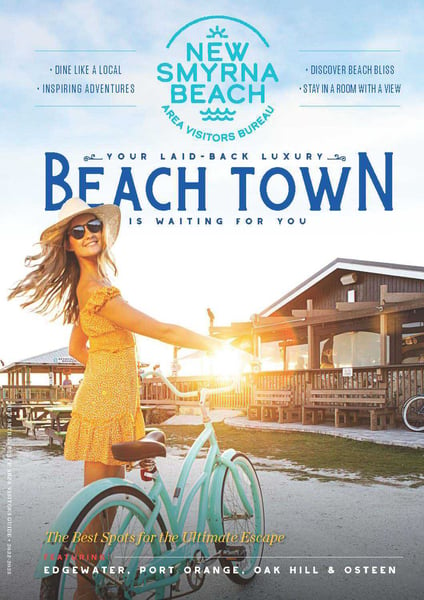 Request Our FREE Destination Guide
In New Smyrna Beach, there is something for everyone. From a vibrant local food scene to the performing and visual art, we are proud to be the perfect choice for creating new family traditions.