Exciting Events Year-Round
We'll let you in on a secret: there really is no bad time to visit the New Smyrna Beach Area. The steamy days of summer give way to comfortable, fall weather, wonderfully mild winters, and warm springs. That's the beauty of East Central Florida, and that's why you can count on beloved monthly rituals year-round like our sip-&-stroll, wine walks, and monthly vintage car shows. Our tight-knit, friendly community is full of fun, very welcoming, and always dreaming up festive ways to gather a crowd, whether that be for music festivals, foodie-friendly cook-offs, beach runs, or more cultural venues like our well-established IMAGES festival of the arts. You might consider anchoring your visit on a particular event. Here are some ideas.
Events Calendar
DISCLAIMER:

Events are subject to change at any time. Please contact the event coordinator directly to confirm event details. The NSBAVB is not responsible should event information be incorrect in any way.
Festival of the Arts
Art lovers converge at the intersection of historic Canal Street and Riverside Drive in late January each year for the well-established and well-attended IMAGES: A Festival of the Arts. You don't need to be a connoisseur to appreciate the visual feast. Artists set up tented booths to exhibit a dizzying array of varied media, from painting to graphics, ceramics, and photography, there's something for everyone to covet.
IMAGES Website
Spring Events
Springtime brings April's New Smyrna Beach Wine & Food Festival, a long weekend of wine tastings and top-tier multi-course dinners. Staged at the lofty, state-of-the-art Brannon Center with stunning views of the Intracoastal Waterway through its floor-to-ceiling windows, the festival culminates in a popular champagne brunch to the tunes of melodious jazz. If you miss out on this event, don't worry, there is always something cooking. Flagler Avenue routinely closes to traffic in order to cater to hungry diners who purchase "passports" allowing them to sample multiple unique, savory preparations by a variety of local chefs: there's a late January progressive cook-off Chowder Festival, a Mardi Gras-centric Gumbo Festival, a springtime Beach Food Festival, an annual Taco Challenge that takes place on Cinco de Mayo and again in the fall, and a late August Shrimp & Seafood Festival where the avenue literally becomes a walking foodie mecca. Similarly, the monthly Wine Walk invites you to sample twenty small pours of more than 100 wines while you stroll and shop.
Classic Cruise Car Show at Port Orange City Center
Perhaps the most endearing event of all takes place on the second Saturday of each month, year-round, like clockwork: the Port Orange Classic Cruise Car Show. Members of the East Coast Cruisers Car Club buff up their prize hot rods, coupes, classic Cadillacs, and jaw-dropping Royces, then cruise beneath the palms, parking diagonally and popping open their hoods for eager viewers to admire the polished vintage engines. It's exemplary Port Orange hospitality, open to all, with free musical entertainment and vendors selling kettle corn, hotdogs, and soda: a spirited slice of Americana, and a reason to visit again and again.
Event Information
Summer Events
Summer brings the free Summer Concert Series at Riverside Park. Every Thursday in July and August, crowds gather by the gazebo in the warm glow of early evening to enjoy rotating sets of bluegrass, rockabilly, Latin music, and classic rock. It really is a tribute to the town's generous spirit that so many music festivals do not charge a cover fee. Flagler Avenue in particular hosts multiple musical events throughout the year such as the Shamrock & Roll Music Festival around St. Patty's Day; the Voo Doo Music Festival leading up to Mardi Gras with more than 50 free shows along the Avenue; and July 4th's Red, White & Blue Music Festival in which designated taverns, cantinas, and sports bars open their doors free of charge for a lively summer bash. Similarly, the New Year's Eve Countdown Jam lasts nearly all week long. But it's late September's New Smyrna Beach Jazz Festival that is the biggest draw with its enviable lineup of sax quartets, jazz trios, larger ensembles, and solo crooners. You can duck into each club, and snack on tasty street food, vibing on the various rhythms as you make your way from the Indian River to the Atlantic.
never miss what's happening
Subscribe to Monthly News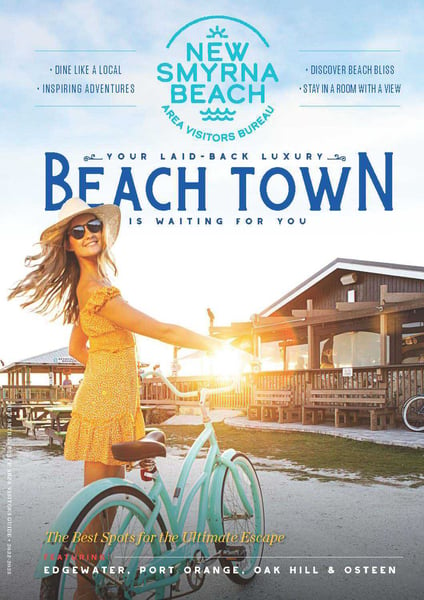 Request Our FREE Destination Guide
In New Smyrna Beach, there is something for everyone. From a vibrant local food scene to the performing and visual art, we are proud to be the perfect choice for creating new family traditions.